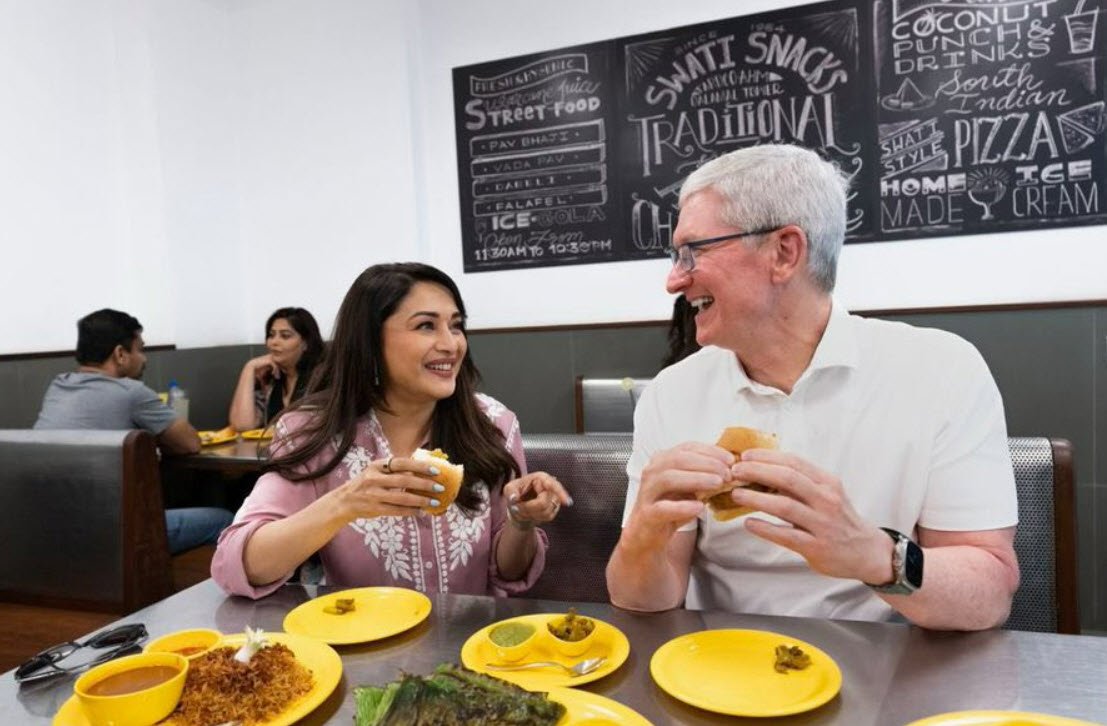 On a recent trip to India, Tim Cook, the CEO of Apple, was spotted enjoying a traditional Mumbai snack, Vada Pav, with Bollywood icon Madhuri Dixit at Swati Snacks, a popular local eatery. Cook's visit to India was part of Apple's expansion plans in the country, which included the launch of its first retail store in Mumbai.
The opening of Apple's Mumbai store marks a significant milestone in the company's efforts to tap into the Indian market, which is home to over 1.3 billion people. Despite being one of the fastest-growing smartphone markets in the world, Apple has struggled to establish a strong presence in India due to a combination of factors, including high import duties, local regulations, and stiff competition from domestic players.
To boost its prospects in India, Apple has been doubling down on its manufacturing capabilities in the country, with plans to assemble its high-end iPhones locally. The company has also been expanding its retail presence, with a focus on tier 2 and tier 3 cities, where it hopes to attract a new set of customers.
During his visit, Cook was expected to meet with Prime Minister Narendra Modi, who has been pushing for India to become a major hub for electronics manufacturing. Cook's meeting with Modi could signal a renewed commitment by Apple to invest in India and tap into its vast potential.
Cook also met with Mukesh Ambani, the Chairman of Reliance Industries, at his luxurious Antilia residence in Mumbai. The meeting was seen as significant, given Reliance's dominant position in the Indian telecom market through its subsidiary, Jio. Apple has been looking to partner with Jio to expand its services in India, and Cook's meeting with Ambani could pave the way for closer collaboration between the two companies.
Cook's visit also included meetings with the captains of India Inc., including N. Chandrasekaran, the Chairman of Tata Sons, one of India's largest conglomerates. The discussions likely centered around Apple's plans for expanding its manufacturing and retail footprint in India, as well as exploring potential partnerships with local companies.
Overall, Cook's visit to India underscores Apple's growing interest in the Indian market and its efforts to overcome the challenges it faces in the country. With its strong brand appeal and innovative products, Apple has the potential to become a major player in the Indian smartphone market, and Cook's visit could be a step towards realizing that goal.
Also read: